Braces & Orthodontics
Modern day braces, for modern day people.
Gone are the days of having to endure months (often years) of wearing unsightly braces to achieve straighter teeth and a better functioning smile. Thanks to the latest advances in orthodontics, traditional braces with their very visible metal brackets, are no longer the only option for people wanting to improve their smile and thanks to Accent Dental, advanced orthodontics are available to the people of Perth.
At Accent Dental, we offer a number of modern orthodontic options to ensure that our patients have access to a choice of different treatments allowing them to choose the one that best fits their lifestyle. We only practice the latest methods of orthodontics at our Perth clinic, which is why we offer the Damon System; a revolutionary braces system that has significantly improved the braces experience.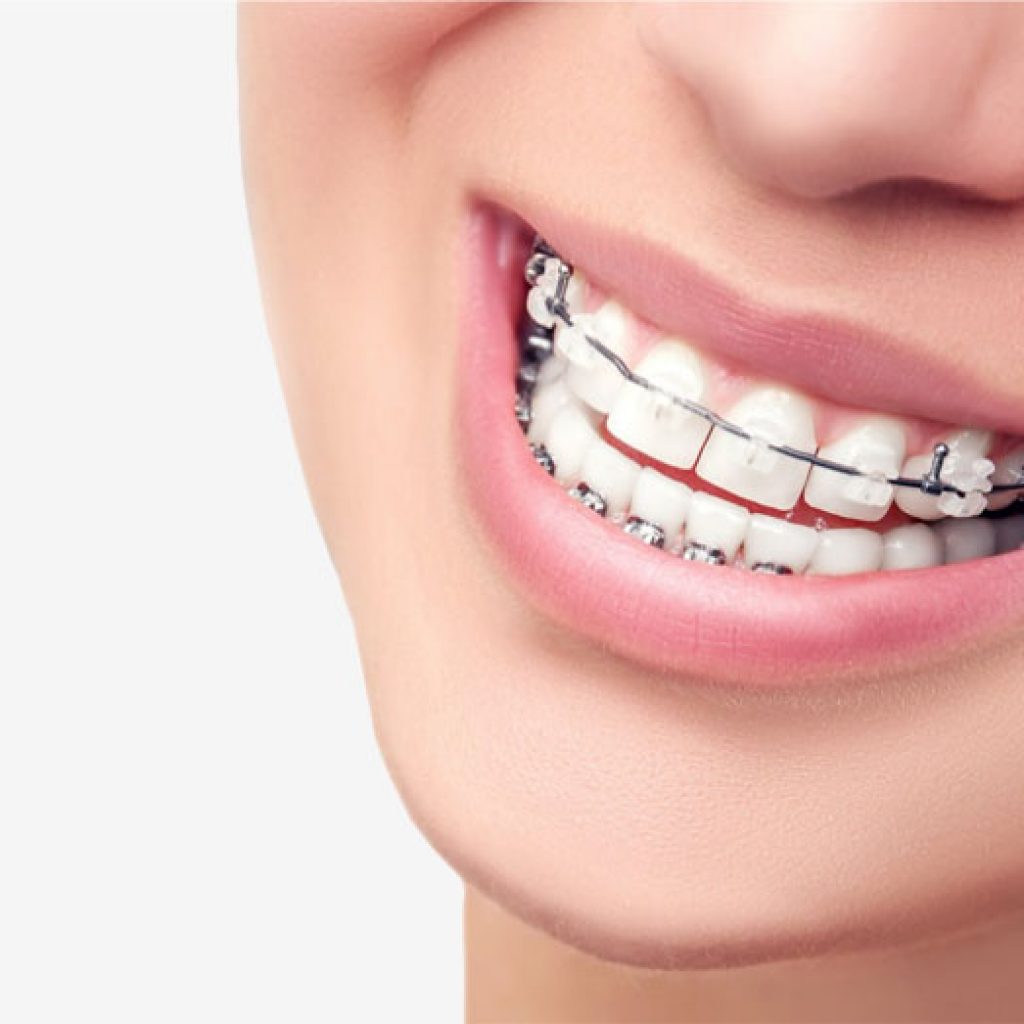 How?
Damon braces are a self-ligating oral appliance that are fitted the same way as traditional mental braces. Self-ligating eliminates the needs for the elastic or metal ties used in traditional braces to hold the wire in place inside the bracket. Instead of ties, Damon braces use a slide mechanism that holds the wire inside the brackets, which then moves naturally with the teeth as they realign.
What does this mean?
Instead of using ties to hold the wire against the bracket, the Damon System uses a metal clip to hold the archwire. This means that the pressure applied to the wire can be manipulated to move in various different directions, unlike traditional braces which can only apply pressure to the base of the bracket. This increases the wire movement ability and means that teeth can be up righted quicker, de-rotated quicker and the overall experience is more comfortable because Damon braces use less force and friction.
On top of this, less orthodontic appointments are required and treatment times are generally faster. This is because the Damon system is a lot less complicated and requires less orthodontic maintenance. This is due to the tiny spring-loaded door in the brackets that maintains the constant pressure on the archwire, whereas traditional braces rely on manual tightening and repositioning of ties and have periods of ineffectiveness between appointments. For patients, this means a lot less trips to our Perth clinic to have your braces tightened, saving the inconvenience of needing to leaving work or school early.
No extractions
The Damon braces system was developed as a non- extraction orthodontic treatment. Traditional braces usually require the removal of several teeth or the use of a palate expander to make room for the straightening of crowded teeth. Damon braces do not usually require this, as the self-ligation method uses lighter forces that work in harmony with the body's natural ability, allowing teeth and the surrounding bone to move together to create space.
Extractions during orthodontic treatment have been blamed for the sunken in face look with traditional extraction orthodontics. Damon braces use lighter forces which means that a 10-tooth smile can be achieved, contributing to the overall facial result of the patient.
Are Damon Braces Right For Me?
Do you want to feel confident about your smile?
Have you been told you need orthodontic treatment but don't like the thought of the associated teeth extraction?
Do you want straight, healthy teeth?
Are you put off by the appearance of traditional metal braces?
Do you want a more functional smile?
Are you having difficulty cleaning your crooked teeth?
Do you want to improve your oral health?
Are your teeth crowded or overlapping?
Do you suffer from bite problems?
Is your jaw misaligned?
Do you want to ensure the longevity of your teeth?
If you answered yes to any of these, then orthodontic treatment, such as the Damon braces, could be the solution. Damon braces will not only give you the smile you've always dreamed of but they will correct any functional issues, such as misalignment or problems with your bite.
By bringing your jaw into an ideal position and straightening any crossed teeth, a number of hygiene and oral benefits will simultaneously be obtained. Such as the reduction of plaque and decay buildup, which means being less likely to develop periodontal disease, gingivitis, dental abscesses, and even tooth loss. Bringing the jaw into its ideal position also means improvements to the temporomandibular joint and overall jaw function.
Still unsure whether Damon braces are the right orthodontics option for you? Make an appointment to visit our Perth city based clinic for a consultation with one of specialist dentists.
Benefits Of Damon Braces?
Options
Patients are given the option of Damon Clear, which utilises clear brackets making them even more discreet.
Comfort
Damon braces do not need to be tightened, which make for more comfortable treatment in a shorter time period.
Faster
Reduced treatment time because the teeth are able to move independently of manual adjustments. On top of this, no ligatures mean no friction, allowing teeth to move freely and accelerating treatments.
Better Oral Health
No ligatures (a.k.a. elastics/ties) equates to better hygiene as it removes the opportunity for bacteria and plaque to gather.
Fewer Visits
They require fewer adjustments, meaning less time spent attending orthodontic appointments.
No Extractions
10-tooth smiles achieved with light biologically-sensible forces.
Contact Accent Dental
If you're considering orthodontic treatment and would like to know whether Damon braces is a viable option for you, please book a consultation to meet with one of our expert dentists at our Perth city clinic. During your consultation our dentists will perform an oral examination, determining whether you're an ideal candidate for the Damon braces system and informing you of any other orthodontic options available to you.
Once you have been provided with information regarding the treatment process, cost and alternative options, you'll be able to make a fully informed decision about whether Damon braces are the right orthodontic solution for you. To book a consultation, please contact our Perth based clinic on 1300 925 701.