We offer a full range of cosmetic dentistry at our Perth clinic.
Enhance your image, self-confidence and quality of life by achieving a smile you're proud to show. To help our patients obtain their dream smile, we offer a full suite of cosmetic dentistry services at our Perth CBD clinic.
Whenever cosmetic dentistry is performed by an Accent dentist, we will carefully assess your desired outcome and requirements, recommending the cosmetic procedures we believe will achieve your aspired look.
To create superior cosmetic results, only the latest advances in dental technologies are practiced in our Perth clinic and by our laboratories, and our dentists only use the most proven methods and techniques.
Before commencing treatment, our dentists will hold an initial consultation with each patient to determine what cosmetic dentistry method should be used to yield the desired results. To book your initial cosmetic dentistry consultation, contact our Perth clinic today on (08) 9226 1461.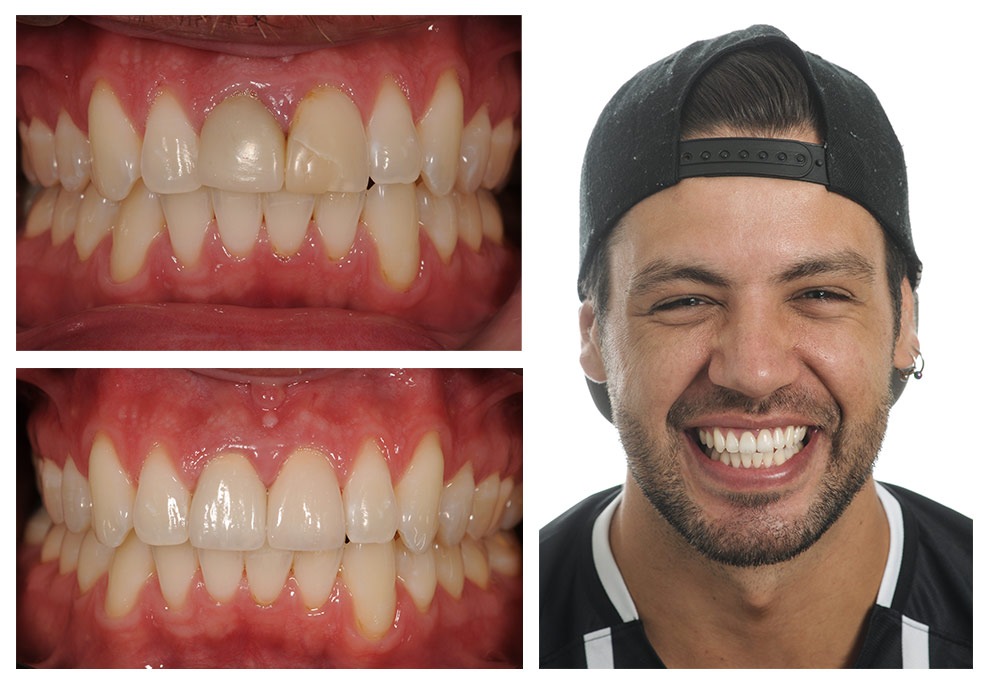 Some of our Cosmetic Dentistry Services
Invisalign Braces
The Invisalign "invisible braces" is another one of our cosmetic dentistry services popular among Perth patients.
Misalignment of the teeth can not only be a cause of self-consciousness for many people, but can also cause dental problems like unhealthy gums and improper chewing and biting.
We offer Invisalign braces to patients wanting to fix the position of their teeth and have found it an effective dental treatment for all patients, regardless of age or profession.
Since these braces are clear and often undetectable, your clients, boss, and co-workers are unlikely to even suspect that you are wearing them. Not only is Invisalign virtually invisible, it also boasts several hygiene benefits when compared against traditional, metal braces. Click here to read about all the benefits of Invisalign and what the treatment entails.
Smile Makeovers
Another popular cosmetic dentistry service that we offer at our Perth clinic, is smile makeovers. Sometimes the placement and condition of teeth leaves patients feeling self-conscious and unable to smile to their full potential. If you are worried about showing other people your full smile, it may be an opportune time to enquire about our smile makeovers.
Our dentists can suggest the right services to improve your smile, which may include a combination of several of our cosmetic dentistry services. This may mean using a combination of the following treatments to produce the desired result; implants, braces, bridges, crowns, teeth whitening, dentures, veneers, bone grafting, or root canals.
We are experienced in all the most advanced cosmetic dentistry practices, and we will recommend exactly which of the ones you require to let your pearly whites shine brighter than ever.
Best of all, our advanced technologies make treatment comfortable and convenient, with the majority of our cosmetic dentistry services being performed at our convenient Perth CBD location. Call us today on (08) 9226 1461 to enquire about our smile makeovers or any of our other cosmetic dentistry services in Perth.
Zoom Teeth Whitening
Teeth whitening is one of our most popular cosmetic dentistry services among our Perth patients. Modern lifestyle habits, like drinking wine, tea, coffee, or cola can make your teeth have a darkened, stained appearance, as well as smoking cigarettes and the natural ageing process.
Zoom Whitespeed is the tooth whitening technology used at Accent Dental, as it is not only completely pain-free but is also the fastest and most efficient treatment for whitening your smile. The whole procedure takes only two hours, and most of that time is spent relaxing while letting the Zoom gel work its magic.
Accent Dental is renowned as one of the best cosmetic dentistry providers in Perth, and is proud to offer our patients of the most effective and revolutionary teeth whitening treatments available. Here is what you can expect from your Zoom Whitespeed treatment:
Soft hydrogen peroxide gel rubbed onto your teeth, to target the outer stains on your enamel
The Zoom Whitespeed light pointed gently at your teeth, to speed up the whitening process
3 to 4 fifteen-minute gel sessions, while you relax and watch TV or listen to music
Instant results, with teeth noticeably a few shades whiter after treatment
Contact Accent Dental
If you're considering orthodontic treatment and would like to know whether Damon braces is a viable option for you, please book a consultation to meet with one of our expert dentists at our Perth city clinic. During your consultation our dentists will perform an oral examination, determining whether you're an ideal candidate for the Damon braces system and informing you of any other orthodontic options available to you.
Once you have been provided with information regarding the treatment process, cost and alternative options, you'll be able to make a fully informed decision about whether Damon braces are the right orthodontic solution for you. To book a consultation, please contact our Perth based clinic on (08) 9226 1461.