Invisalign Perth
Invisalign is a revolutionary orthodontics treatment, commonly referred to as the 'invisible braces', Invisalign is virtually undetectable way to straighten your teeth and usually has a quicker treatment time than traditional orthodontics. The Invisalign technology has finally made its way to Perth and is now available at premier dentists and orthodontists. Accent Dental is home to two of Perth's best Invisalign practitioners and together they have perfected hundreds of smiles. Our advanced Perth clinic possess all the latest Invisalign technology, ensuring we're able to produce results unrivalled by others.
What is Invisalign?
Invisalign uses a series of clear, removable trays that move and straighten the teeth in small stages. The treatment is simple. Trays are changed approximately every 2 weeks, moving teeth into the ideal position to give a straighter, more perfect smile.
The best part? Unlike braces, the aligner trays can be removed, allowing the patient to eat and brush as normal, meaning no limited food groups or awkward trapped food and allowing for optimal cleaning and hygiene.
Invisalign is suitable for all ages
Due to its virtual invisibility, Invisalign is a popular orthodontic treatment among both adults and teens. Being the 'invisible braces' it's perfect for self-conscious teenagers or for adults who have always wanted straight teeth but have client facing job roles or simply cringe at the thought of sporting metal.
Invisalign products combine computer software and a series of medical-grade plastic appliances called "aligners" to move teeth in stages as determined by the treating doctor. Founded in 1997, Align began its first commercial sales of Invisalign to orthodontists in 1999 and soon after launched a U.S. national consumer-advertising campaign. To date, they manufactured 15 million aligners and is an increasingly mainstream treatment option.
What can Invisalign treat?
Invisalign is successful in treating overly crowded or widely spaced teeth. It can also relieve more complex issues, including overbites, under bites, open bites and even cross bites.

Overly Crowded Teeth
This occurs when there is simply a lack of room within your jaw for all of your teeth to fit normally. When left untreated, overly crowded teeth can cause dental decay, an increase in chances of gum disease, and can prevent the normal function of teeth.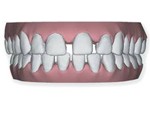 Widely Spaced Teeth
This occurs with abnormal continued growth of the jaw bone. When teeth are missing, this issue can also be caused by the other teeth shifting due to extra space. Spacing issues in teeth can cause some periodontal diseases.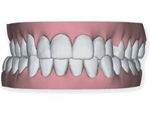 Crossbite
This occurs when the upper and lower jaws are both misaligned. It causes one or more upper teeth to bite on the inside of the lower teeth, and can happen on both the front and/or the sides of the mouth. This issue can cause wear of the teeth, gum disease, and bone loss.
Overbite
What people commonly refer to as an "overbite" is known to dental professionals as "overjet." It occurs when the upper teeth bite over the lower teeth. It's typically caused by either genetics, bad oral habits, or over development of the bone that supports the teeth. This issue can lead to gum problems or irritation, and/or wear on the lower teeth and can cause painful jaw and joint problems.
Underbite
This occurs when the lower teeth protrude past the front teeth. It's usually caused by undergrowth of the upper jaw, overgrowth of the lower jaw, or both. It can also be caused by missing upper teeth. This issue can prevent the normal function of front teeth or molars which can lead to tooth wear. It can also cause painful jaw and joint problems.
Invisalign has some major advantages over conventional braces. Aside from being virtually invisible, they're also much more hygienic, comfortable and time friendly.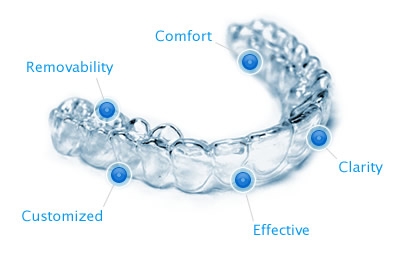 The 'Invisible Braces'
Aesthetically, they are much more appealing as the wires, elastics and brackets of conventional braces are all replaced by a clear and minimalist plastic aligner, making them nearly invisible.
Comfort
With traditional braces, patients often feel a lot of discomfort, usually each time they're adjusted but also because the metal brackets aggravate the mouth and cause ulcers and gum irritation. Invisalign patients usually only feel a mild discomfort when the aligners are changed, which is more of a tight pressure feeling lasting 1-3 days.
Diet
The Invisalign aligners are removed when eating or drinking, meaning that the patient is not limited in what they can consume. Unlike braces, where hard foods that can break the brackets or foods that can discolour the elastics are to be avoided.
Time Saving
Invisalign patients spend much less time in the dental chair as visits are approximately every 6-8 weeks, compared to the 3-4 weeks required of traditional braces as the brackets and wires need to manually changed. During an Invisalign appointment, patients will be give the appropriate number of aligners to see them over until their next visit, saving you travel time and the inconvenience of having to miss school or work.
Hygiene
Traditional braces can be a major source of bacteria and erosion. This is because food gets trapped around the metal brackets and held against the teeth and if not cleaned properly, can cause enable erosion. Traditional braces also make brushing and, especially flossing, difficult. Invisalign patients experience a much more hygienic treatment because of the elimination of brackets and wires, aligners are removed when eating and because patients can brush and floss as normal.
Knowledge
Invisalign treatment plans are pre-determined before treatment commences (thanks to the clever computer software mentioned earlier). An Invisalign patient will know the treatment duration and each tooth move that is being made with each aligner, before the treatment has even begun. Unlike traditional braces, where only estimations can be given, due to the treatment process relying solely on the practitioner's expertise and opinion.
The Process
Meet with our premier Invisalign dentists at our Perth clinic for an initial consultation, where you will be assessed to determine whether you're a candidate for Invisalign and if so, what Invisalign product best suits your needs.
If you're a candidate for Invisalign and wish to proceed with having your treatment done at Accent Dental, the next step is to take photos, X-rays and digital scans (or impressions) to start creating a treatment plan for your invisible braces. This will take place at our Perth practice, apart from some scans which may require you to visit a radiology clinic.
Your Accent Dental dentist, along with the maker of Invisalign aligners will work together, using your scans and x-rays, to plan your treatment. A 3D treatment plan will be created, called a Clincheck, to show your entire intended treatment. The Clincheck is extremely detailed and will show you what tooth movements will be made with each aligner, as well as a before and after picture of your teeth (from all angles), so that you can visualise exactly what your smile will look like after (and during) treatment.
Once made alterations to (if any) and approve the Clincheck, the treatment plans will be sent to the Invisalign manufacturer to make and then shipped to our Perth clinic, this usually takes around 3-4 weeks.
When the Invisalign aligners have arrived, you will be called back into our Perth clinic to begin your journey to better teeth.  When you begin treatment, you'll wear each set of aligners in approximately two-week increments. The aligners gently move your teeth into position, and at the end of each two-week period, you "graduate" to the next set of custom aligners. We will give you 6-8 weeks' worth of retainers to keep changing until your next appointment.
We will schedule check-up appointments every 6-8 weeks so that our dentists can monitor the progress of your treatment and give you your next set of aligners.
Once you've finished your Invisalign treatment you'll be required to continue wearing the final aligner for the first few months and then it will act as a retainer to be worn only at night. It's important that the retainer is worn on a lifetime basis to ensure that the new position of your teeth is maintained.
Our team will review your retention phase every 4 months after your treatment has been completed and then twice a year there after. Retention is a lifetime responsibility and relapse (your teeth will move again!) will occur if you fail to wear your retainer.
Q. What happens if I lose an aligner?
Losing an aligner is not the end of the world. What does cause problems is when patients do not replace them. By not wearing your aligner for the right amount of time, you risk disrupting your treatment and prolonging the need to wear aligners. If you do not wear your aligners enough, it could be that ultimately, your treatment does not create the results you want.
If you lose or damage an aligner, it is important that you contact your dentist for advice as soon as possible. They will be able to commission a replacement so that your treatment can continue to a successful conclusion.
Q. Will I have to wear retainers?
Retainers are an essential part of all orthodontic work and the Invisalign system is no different. However, the type of retainer you require will vary depending on the type of treatment you have. Some retainers are removable, others are fixed or bonded into place. But retainers will be a requirement of your treatment, as they will stop your teeth from rebounding into their original positions when you have stopped wearing your aligners.
It can be helpful to ask your dentist in advance what kind of retainers they recommend. Retainers are an overlooked part of the treatment for many patients and the type of retainer required in the future can affect their willingness to undergo treatment. There is also an additional cost for retainers which your dentist should make clear to you at the outset.
Q. Will I need further treatment in the future?
As we mentioned above, retention is an important element in the overall treatment. When using Invisalign, retention is usually required for up to two years, though it is gradually scaled back so that you have to wear your retainers less and less.
Most dentists will also recommend that you take regular check-ups to maintain your oral health and hygiene once your treatment has finished. This means that your investment in your smile is maintained in the future.
Q. What is cosmetic dentistry?
Cosmetic dentistry or 'Aesthetic Dentistry' involves dental procedure that improve the appearance of you smile. Treatments can lighten, straighten, repair and re-shape teeth, this is done by using tooth whitening, tooth coloured fillings, veneers, crowns, implants & dentures.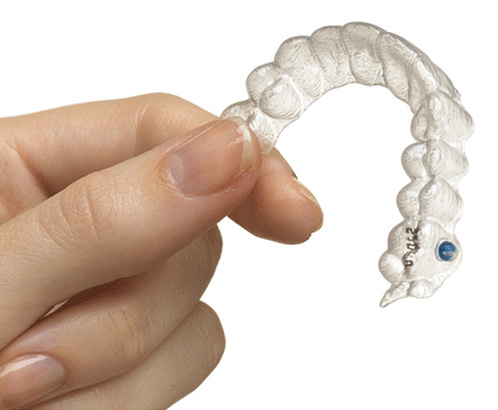 Are you ready to get your dream smile?
If you're ready to get the smile you've always dreamed of, it couldn't be at a better time. Thanks to the clever Invisalign technology, braces are no longer something that are dreaded and avoided.
If you're ready to embark on your perfect smile journey using the invisible braces, contact our Perth clinic today and schedule a consultation appointment to determine whether you're an eligible candidate and to find out what your Invisalign options are.