Life is too short to spend it hiding your smile or suffering from tooth pain. Thanks to the latest advancements in modern dentistry and our highly trained and skilled dentists, you can now live pain-free and with a completely restored smile.
Dental implants have changed the world of dentistry and are rapidly replacing dentures as the preferred way to replace missing teeth. They're the first fixed dental appliance that function as though they're natural teeth and allow the user to eat, smile, talk, laugh, play, sleep, breathe and act as if they were real. Dental implants are a permanent solution to missing or unhealthy teeth and are an extremely versatile dental appliance, being able to replace as little as one tooth or a full arch. On top of the convenience of being permanent and the many associated health benefits, dental implants (if cared for properly) can last a lifetime!
At Accent Dental Care, we can help create the smile you've always dreamt of having, with our quality dental implants. Our experienced Perth dentists will work with you to achieve a pain-free, natural-looking smile you'll love. Whether it's through a singular implant or multiple teeth implants, we'll work with you to create a long-lasting solution.
Want to find out more about how we can help you achieve your best smile through our dental implants? Get in touch with our Perth team on (08) 9226 1461 or book an appointment here.
What are Dental Implants?
Dental implants are a strong, long lasting, natural looking replacement for missing teeth. Becoming an increasingly popular alternative to dentures due to their permanency, dental implants are a fixed solution, that look and function as though they're real teeth. Implants are permanently secured into the jaw to replace missing, damaged or jeopardised teeth to not only fill the gap or replace decayed teeth, but to prevent shrinkage of the jawbone as well. Dental implants will not only enhance or restore a patient's smile, but they also provide facial support, stability and a number of health benefits.
How Do Dental Implants Work?
Dental implants act as an artificial tooth root, and once positioned securely into the jaw, a false, natural looking tooth can be mounted onto it. Dental implants are metal posts (usually made of titanium, which is what we use at our Perth clinic) that are surgically positioned beneath the gums and into the jawbone, allowing it to fuse with the natural bone and create a strong, sturdy foundation for replacement teeth. Implants are extremely versatile and can be used to replace an individual tooth or for a denture that contains multiple teeth.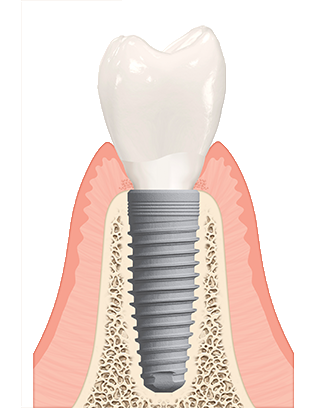 Single Tooth Implants
a
t Our Perth Clinic 
For patients that are missing a single tooth; a combination of one dental implant and a crown can replace it. Using a dental implant to treat a single missing tooth has many aesthetic and health advantages over other solutions. Not only does it provide the most natural tooth looking replacement, but the dental implant will also replace the tooth root, ensuring that stimulation is kept in the jawbone and preventing bone loss. This will help to keep the rest of your teeth healthy and prevent any more tooth loss in the future.
On top of this, using a dental implant to treat a single missing tooth will have no negative impact to the adjacent teeth. Unlike other dental solutions, such as a fixed bridge, which requires the teeth on either side of the false tooth to be filed to support the appliance. A massive benefit and attraction to dental implants is they do not compromise the health of neighbouring teeth.
It's important to note, all dental and surgical procedures carry risks. Treatment advice pending clinical suitability and consideration of alternative treatments. Before proceeding you may consider seeking a second opinion. 
If you'd like to find out more about our single dental or tooth implant solutions, please get in touch with our Perth team here.  
Single Tooth Implant Smile Gallery
Multiple

T

ee

th

Implants

at Our Perth Clinic 
In situations where there are two or more missing adjacent teeth, it may be possible to replace them by joining two or more implants together. For example, if a patient is missing three adjacent teeth, our dentists may only need to place two implants in the large space, rather than an individual implant for each missing tooth. Then the three artificial teeth will be connected together and mounted as one fixture on the two implants.
Combing several teeth on the one implant saves on time and money, making the dental implant procedure a lot more affordable for our Perth patients.
If you'd like to find out more about our multiple dental or teeth implant solutions, please get in touch with our Perth team here.
Multiple Tooth Implant Smile Gallery
Why choose Accent Dental for your Dental Implants

in Perth

?
When it comes to dental implants, Accent Dental are among Perth's best dentists.
You can expect all of the following when you choose us for your cosmetic dentistry needs:
Highest aesthetic result
Absolute ability in finding the right solution for yourself and your budget
Able to place implants and give tooth by same practitioner
Best product available utilising best implants and materials (Nobel Biocare and specialised lab)
Warranty on product
Exceptional maintenance by our support team
Sedation and general anaesthetic available
State of the art facility
Individualised solution (not a one size fits all approach)
Dental Implants with Accent Dental
Affordable
Dental implants have never been more affordable, timely, or natural looking. We understand better than anyone how important it is to feel great about our smiles, which is exactly why we strive to make our dental implants as affordable and accessible for our Perth patients as possible.
If you require dental implants, our Perth team can also provide financial support with help from our preferred dental finance companies. Our payment plan options make achieving your dream smile easier and more affordable than you think.
Fast
Our implants can be produced extremely quickly, using the most advanced dental technologies, meaning that you can have a whole new set of teeth within as little as two days.
Comprehensive
No matter what dental problems you have had in the past, we can help you to fix your pearly whites with our affordable solutions and wide range of dental treatments and services.
Often using a combination of restorative and cosmetic dentistry, we help our patients regain confidence in themselves. Since they look and function like natural teeth, dental implants will have you leaving our Perth clinic with a whole new smile, plus the ability to eat, talk and laugh naturally.
Advanced Technology
Our dentists practice guided implant surgery when planning dental implant treatments at our Perth facility. Guided implant surgery embraces modern technology and the use of computer systems, CT scans and 3-D imaging in the dental implant planning process, allowing dentists to visualize the placement of the implants and eliminating any guess work. Using this technology, our dentists can implant virtually first and then accurately place the implant in the most safe, predictable, and efficient manner.
What does this mean for our patients? Guided implant surgery ensures a more accurate and safer positioning of dental implants as well as a quicker surgery time, with teeth usually being fitted within an hour because our dentists have had time to look, plan and assess prior to operating.
All-in-house
If you require teeth implants or a replacement, have confidence in knowing our Perth dental team are highly experienced and have the ability to restore an entire arch of teeth, using advanced technologies and the latest techniques. In addition to full jaw implants, we can also specialise in single implants, bone grafting, and sinus lifts. By specialising in these additional fields, we're able to ensure that we can solve all your dental problems and that our dentists are able to complete every step of your implant treatment in-house, without the need for involving a third party.
We know how important it is for patients to have trust and confidence in their dentist. For this reason, we offer the option to have the implants and teeth placed by the same dental practitioner.
All of our dental practitioners have undergone intensive training and possess the ability to conduct the complete dental replacement on their own. Allowing our patients to build trust with their dentist, and feel completely confident with their treatment, knowing exactly who is working on their beautiful smile.
How much do Dental Implants in Perth cost?
Dental implants are an investment, a pretty wise investment if you ask us because if cared for properly, they can last a lifetime. That's a lifetime of having good oral health and the confidence to smile.
We like to be transparent with our patients, which is we're always upfront when it comes to cost. Please see below for a starting cost for each of the dental implant procedures practiced at our Perth clinic:
Single dental implant from $6000
Bone grafting (if required) from $1500
Sinus lift (if required) from $2000)
Full jaw implant treatment or all-on-four therapy, from ($19,000)
Please note that the above prices do not include the additional costs of tooth extractions, x-rays and CT scans or temporary prosthesis. However, these services may not be required in your treatment plan, this will be determined during your initial dental implant consultation at our Perth clinic, where a quote will be issued so you can get a more accurate idea for price.
Contact Accent Dental
If you would like more information regarding our dental and teeth implant solutions, contact our Perth clinic today on (08) 9226 1641 and speak to a member of our friendly administration team, we're always happy to provide you with information over the phone or schedule a consultation appointment to go over our treatments with you in person.
If you're wondering whether dental implants are a viable solution for you, book an appointment to meet with one of our dentists at our Perth clinic for a full examination and assessment. Upon competition, our dentists will be able to tell you whether dental implants are your best solution for oral restoration and provide you with any alternative treatment options.